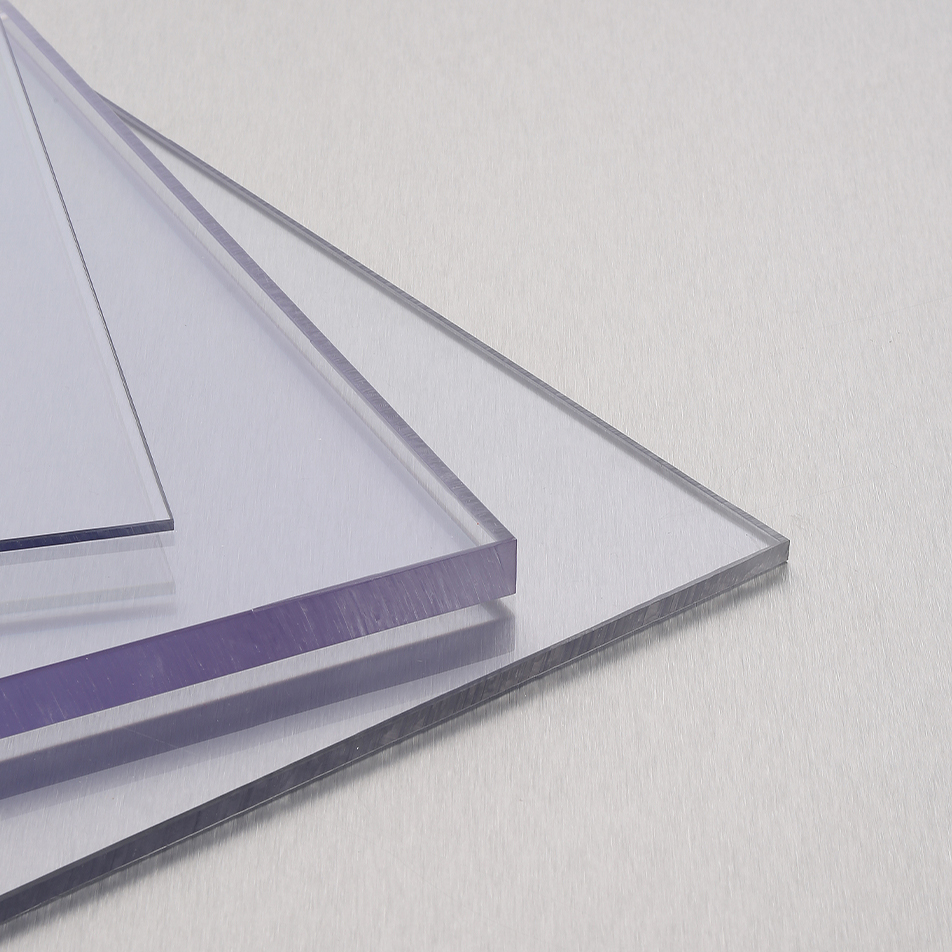 Polycarbonate
---
Product full identity:
Polycarbonate
PC has excellent optical properties and is virtually unbreakable in normal use. PC is easy to fabricate and shows exceptional performance with a wide operating temperature range. Other important benefits include high mechanical, thermal and electrical properties.
Properties
---
Outstanding impact strength
High temperature range (+120 to -60°C)
High optical performance
Easily machined and thermoformed
Range of finishes and colours, on application.
Applications
---
Industrial glazing
Skylights
Protective screens
Riot shields
Industrial equipment
Download Product Information
Click here for Product Availability
---
Technical Properties:
All information is for guide purposes only. The data has been taken from standard test results provided by our manufacturers.
| Property | Unit | Test Method | Value |
| --- | --- | --- | --- |
| Specific gravity | g/cm³ | ISO 1183 | 1.20 |
| Maximum service temp. Upper temp limit - short term | °C | | 135 |
| Maximum service temp. Upper temp limit - Long term | °C | | 115 |
| Lower temp limit | °C | | -40 |
| Property | Unit | Test Method | Value |
| --- | --- | --- | --- |
| Tensile strength | MPa | ISO 527-2 | 60 |
| Elongation at yield | % | ISO 527-2 | 80 |
| Unnotched Impact strength | kJ/m² | ISO 179 | No break |
| Notch impact strength | kJ/m² | ISO 179-1/1eA | >13 |
| Ball indentation / Rockwell hardness | MPa | ISO 2093-1 | 110 |
| Flexural modulus of elasticity | MPa | ISO 178 | 2000 |
| Tensile modulus of elasticity | MPa | ISO 527-2 | 2200 |
| Property | Unit | Test Method | Value |
| --- | --- | --- | --- |
| Volume resistivity | Ω x m | IEC 60093 | 1x10(15) |
| Surface resistivity | Ω | IEC 60093 | 1x10(15) |
| Dielectric strength | kV/mm | IEC 60243-1 | >30 |
| Dielectric loss factor at 1 MHz | | DIN 53483 | 8x10-4 |
| Comparative tracking index (CTI) | | IEC 60112 | cti-250<1 |
| Dielectric loss factor at 1 MHz | | DIN 53483 | 8x10-4 |
| Comparative tracking index (CTI) | | IEC 60112 | cti-250<1 |
| Property | Unit | Test Method | Value |
| --- | --- | --- | --- |
| Vicat-softening point VST/B/50 | °C | ISO 306 | 145 |
| Heat deflection temperature HDT/B | °C | ISO R75 | 135 |
| Coefficient of linear thermal expansion 23°C - 100°C | m/(m.K) | ISO 11359-2 | 0.065 |
| Thermal conductivity at 23°C | W/mK | ISO 22007-1 | 0.2 |
| Property | Unit | Test Method | Value |
| --- | --- | --- | --- |
| Food compliance - FDA | | | No |
| Food compliance - EU | | | No |
| Food compliance - FDA | | | No |
| Food compliance - EU | | | No |
| Property | Unit | Test Method | Value |
| --- | --- | --- | --- |
| Fire performance | | 13501 | B-s1,d0 |
| Fire performance | | 13501 | B-s1,d0 |
| Property | Unit | Test Method | Value |
| --- | --- | --- | --- |
| Light Transmission | % | 13468-1 | 86 |
| Refractive index | nD 20 | 489 | 1.585 |
| Solar energy transmittance g- value | % | EN 410 | 3mm-81, 7, 10mm-78,5 |
Download Technical Information