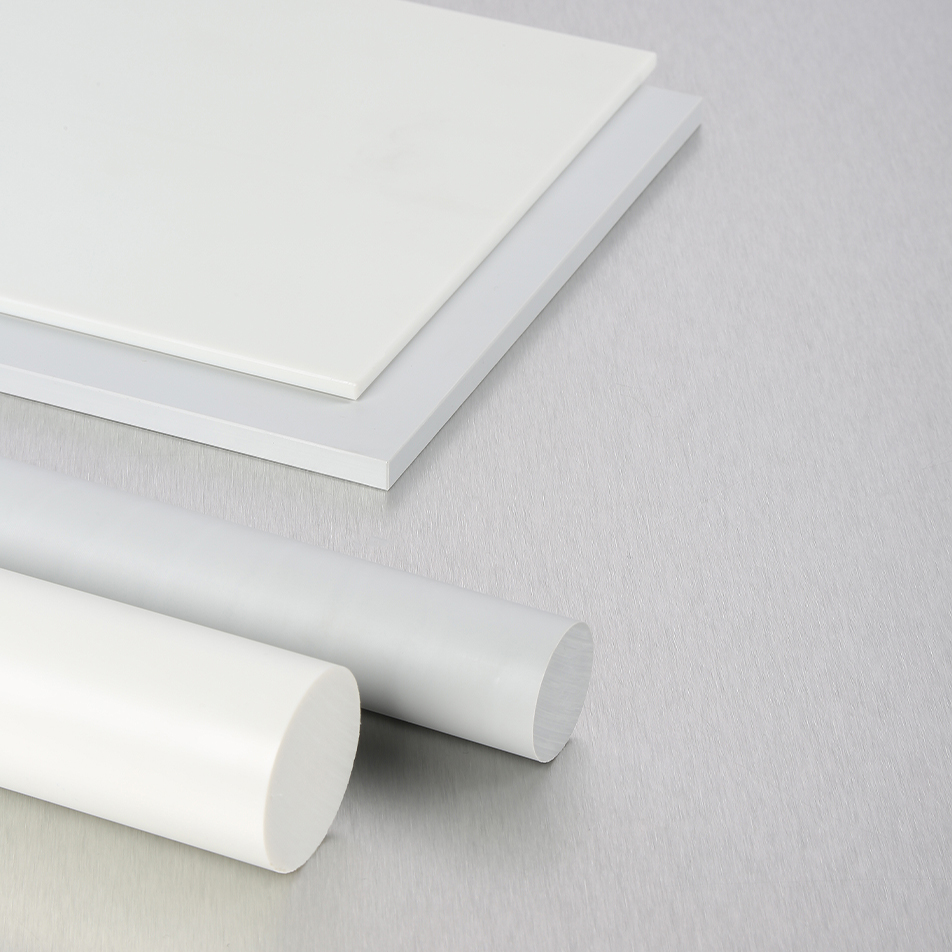 PET
---
Product full identity:
Polyethylene Terephthalate (PETP)
PET offers specific properties, such as excellent dimensional stability which makes this material perfect for the manufacture of mechanical precision parts. PET can also resist high loads and wear conditions.
Properties
---
Excellent dimensional stability
Very good creep resistance
High strength, stiffness and hardness
Wide temperature range (+115 to -20°C)
Low coefficient of friction
Food contact approved.
Applications
---
Engineering
Medical and conveyor industries
Precision parts.
Download Product Information
Click here for Product Availability
---
Technical Properties:
All information is for guide purposes only. The data has been taken from standard test results provided by our manufacturers.
| Property | Unit | Test Method | Value |
| --- | --- | --- | --- |
| Specific gravity | g/cm³ | ISO 1183-1 | 1.39 |
| Water absorption till saturation 23°C | % | | 0.50 |
| Maximum service temp. Upper temp limit - short term | °C | | 160 |
| Maximum service temp. Upper temp limit - Long term | °C | | 115 |
| Lower temp limit | °C | | -20 |
| Property | Unit | Test Method | Value |
| --- | --- | --- | --- |
| Tensile strength | MPa | ISO 527-1/-2 | 90 |
| Unnotched Impact strength | kJ/m² | ISO 179-1/1eU | >50 |
| Notch impact strength | kJ/m² | ISO 179-1/1eA | 23 |
| Ball indentation / Rockwell hardness | MPa | ISO 2039-1/2039-2 | 170 / M95 |
| Tensile modulus of elasticity | MPa | ISO 527-1/-2 | 3600 |
| Property | Unit | Test Method | Value |
| --- | --- | --- | --- |
| Volume resistivity | Ω x m | IEC 60093 | > 1014 |
| Surface resistivity | Ω | IEC 60093 | > 1014 |
| Dielectric strength | kV/mm | IEC 60243-1 | 22 |
| Dielectric constant at 1MHz | | IEC 60250 | 3.20 |
| Dielectric loss factor at 1 MHz | | IEC 60250 | 0.014 |
| Comparative tracking index (CTI) | | IEC 60112 | 600 |
| Dielectric constant at 1MHz | | IEC 60250 | 3.20 |
| Dielectric loss factor at 1 MHz | | IEC 60250 | 0.014 |
| Comparative tracking index (CTI) | | IEC 60112 | 600 |
| Property | Unit | Test Method | Value |
| --- | --- | --- | --- |
| Heat deflection temperature HDT/B | °C | ISO 75-1/-2 | 75 |
| Coefficient of linear thermal expansion 23°C - 100°C | m/(m.K) | ISO 11359 | 0.6 |
| Thermal conductivity at 23°C | W/mK | DIN 52612 | 0.27 |
| Property | Unit | Test Method | Value |
| --- | --- | --- | --- |
| Food compliance - FDA | | FDA | yes |
| Food compliance - EU | | EU 10/2011 | yes |
| Food compliance - FDA | | FDA | yes |
| Food compliance - EU | | EU 10/2011 | yes |
| Property | Unit | Test Method | Value |
| --- | --- | --- | --- |
| Fire performance | | UL 94 | HB |
| Fire performance | | UL 94 | HB |
| Property | Unit | Test Method | Value |
| --- | --- | --- | --- |
Download Technical Information