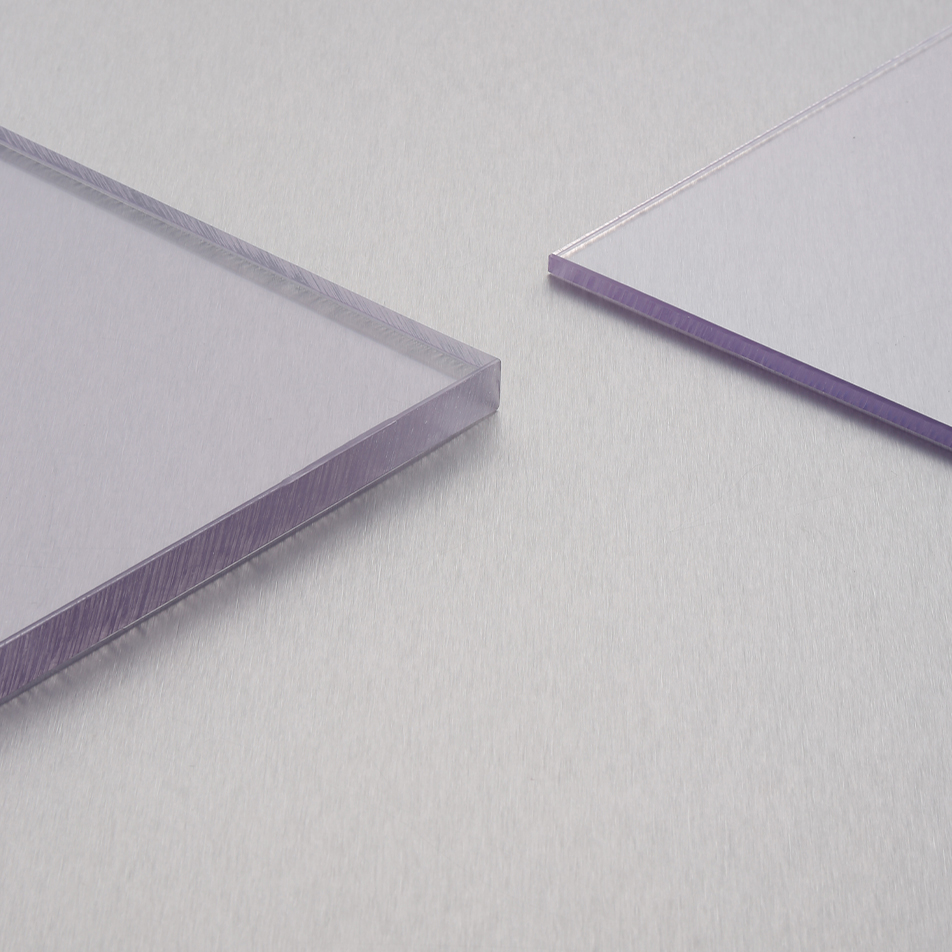 PETG
---
Product full identity:
Polyethylene Terephthalate Glycol
PETG has high impact resistance and is easy to fabricate without the need to pre-dry resulting in faster cycle times. Thermoforming and bending can be done with accuracy whist
maintaining visual clarity.
Properties
---
Easily machined and thermoformed
High impact resistance
Good temperature resistance (+65°C to -40°C)
Good chemical resistance
Easily glued and weldable
Food contact approved.
Applications
---
Fabricated parts
Machine guards
Display shelving and racking systems
Vending machine screens
Industrial equipment.
Download Product Information
Click here for Product Availability
---
Technical Properties:
All information is for guide purposes only. The data has been taken from standard test results provided by our manufacturers.
| Property | Unit | Test Method | Value |
| --- | --- | --- | --- |
| Specific gravity | g/cm³ | ISO 1183 | 1.27 |
| Maximum service temp. Upper temp limit - short term | °C | | 70 |
| Maximum service temp. Upper temp limit - Long term | °C | | 60 |
| Property | Unit | Test Method | Value |
| --- | --- | --- | --- |
| Tensile strength | MPa | ISO 527 | 50 |
| Elongation at yield | % | ISO 527 | 60 |
| Unnotched Impact strength | kJ/m² | ISO 179-1 | no break |
| Notch impact strength | kJ/m² | ISO 179-1/1eA | 7 |
| Ball indentation / Rockwell hardness | MPa | ISO 2039-1 | 105 |
| Flexural modulus of elasticity | MPa | ISO 178 | 1900 |
| Tensile modulus of elasticity | MPa | ISO 527-2 | 2000 |
| Property | Unit | Test Method | Value |
| --- | --- | --- | --- |
| Volume resistivity | Ω x m | IEC 60093 | 10(15) |
| Surface resistivity | Ω | IEC 60093 | 10(16) |
| Dielectric strength | kV/mm | IEC 60243-1 | 16 |
| Dielectric constant at 1MHz | | IEC 250 | 2.6 |
| Dielectric loss factor at 1 MHz | | IEC 250 | 0.01 |
| Dielectric constant at 1MHz | | IEC 250 | 2.6 |
| Dielectric loss factor at 1 MHz | | IEC 250 | 0.01 |
| Property | Unit | Test Method | Value |
| --- | --- | --- | --- |
| Vicat-softening point VST/B/50 | °C | ISO 306 | 70 |
| Heat deflection temperature HDT/B | °C | ISO 75-2 | 72/68 |
| Coefficient of linear thermal expansion 23°C - 100°C | m/(m.K) | ISO 11359-2 | 0.068 |
| Thermal conductivity at 23°C | W/mK | ISO 22007-1 | 0.20 |
| Property | Unit | Test Method | Value |
| --- | --- | --- | --- |
| Food compliance - FDA | | FDA | Yes |
| Food compliance - EU | | EU 10/2011 | Yes |
| Food compliance - FDA | | FDA | Yes |
| Food compliance - EU | | EU 10/2011 | Yes |
Property
Unit
Test Method
Value
Fire performance
13501-1
Din 4102-1

B-s1,d0
B1

Fire performance
13501-1
Din 4102-1

B-s1,d0
B1

| Property | Unit | Test Method | Value |
| --- | --- | --- | --- |
| Light Transmission | % | ISO 13468-1 | 88 |
| Refractive index | nD 20 | ISO 489 | 1.57 |
| Haze | % | ISO 14782 | <1 |
| Solar energy transmittance g- value | % | EN 410 | 3 mm-82.4 & 10 mm-79.4 |
Download Technical Information