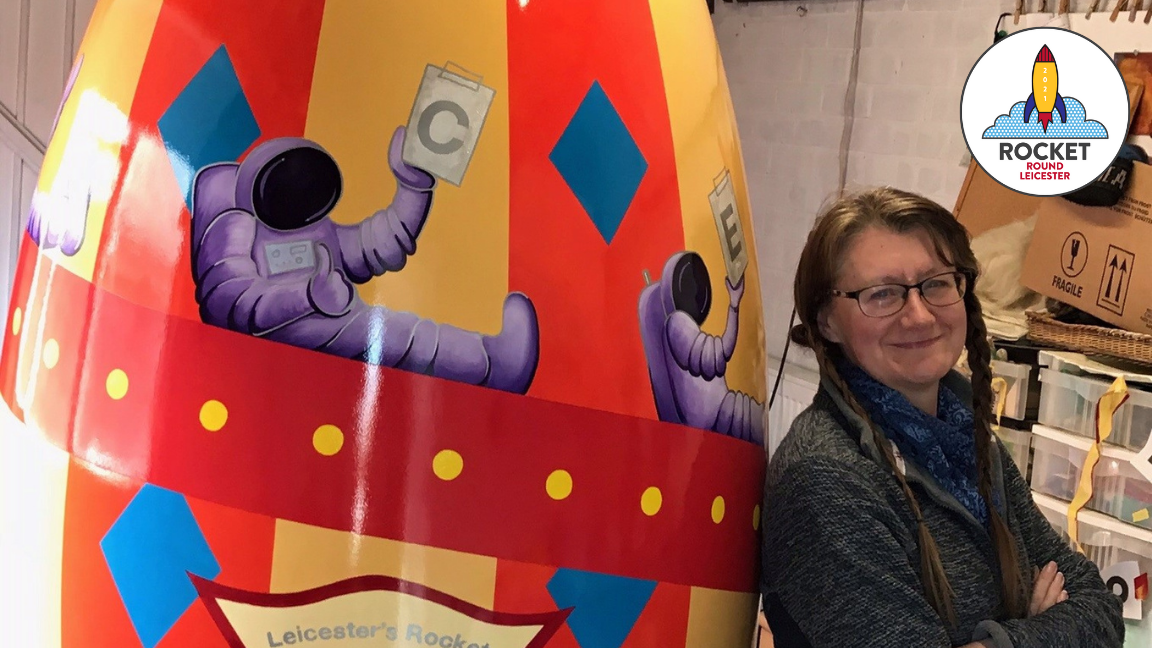 ---
Oadby Plastics put the spotlight on the artist behind the rocket
It's Rocket Round Leicester Creative Week and we are putting the spotlight on the talented artist behind our sponsored 'Helter Skelter' rocket, Susan Webber.
We asked Susan a few questions about designing our rocket and her motivation for getting involved in such charitable events.
Q: What inspired your design?
A: Whenever I design a sculpture, I like to think of a story that may go with it, something which will engage the public's imagination. This time I looked at the shape of the rocket and thought it could be a Helter Skelter. Because the question is 'how does a spaceman leave a space rocket?'
Q: Did you have to use any special paint or techniques?
A: The sculptures are made of fibre glass and already primed for painting, which is handy because I can go straight on and paint. Although I do like to use a special acrylic primmer first called gesso. I like to lightly sand this down and then it is ready for painting.
I always use acrylic paint when painting, and generally a solid colour will need two coats. So, in other words I paint the sculpture twice! Wild in Art always supply a special varnish which is applied when all paint is completely dry. The varnish is weather and graffiti proof.
Q: How long did it take?
A: Several weeks! It was the end of winter/beginning of spring this year. We are now in the middle of summer, and at present, a heat wave, and it seems a long time ago I was wrapped up warm with many layers of clothing, painting in a cold studio (my garage).
I often like to listen to music, anything really, from Dreadzone to DuranDuran. This time I had a medley of space tunes to listen to. So now when I hear Cosmic Girl by Jamiroquai it reminds me of painting the rocket
Q: What do you enjoy most about doing art sculpture trails?
A: Painting the sculptures is such a fun thing to do. I love thinking about all the people having a great time looking around at all the sculptures.
After the trail and the sculptures go to auction, I hope my artistic endeavours will help raise lots of money for charity.
The sculpture trail is now live and closes on 10th October. Make sure you don't miss out on this fun and colourful city-wide adventure and challenge yourself to find all the rockets!
For more details about the event: rocketroundleicester.co.uk